What happens when two longtime frenemies have an unfriendly contest over Christmas lights.
A famous children's book author fights aging and the mystical childhood creatures that want something from her.
Grandparents travel far for Thanksgiving with one mission: Spoil their granddaughter.
Minnesota Not So Nice
Minnesota Not So Nice, a Twin Cities Sisters in Crime anthology, features short stories set in Minnesota and full of mischief and mayhem. My story in this book is "The Cat Who Loved Bells." Sounds sweet, right? Not exactly. When this feline with a ear for music isn't sneaking into churches, it is hanging out with a corner bell ringer whose life is hard and about to get harder.
"This not-to-be missed collection of mysteries captures everything there is to love and fear about those who live in the land of hot dishes and 10,000 lakes. These talented writers will make sure you never look at Minnesota Nice in the same way again." —Kristi Belcamino, USA Today Best-Selling Crime Fiction Writer
You can pick up your copy of Minnesota Not So Nice in paperback or eBook here. All proceeds support Twin Cities Sisters in Crime.
Dark Side of the Loon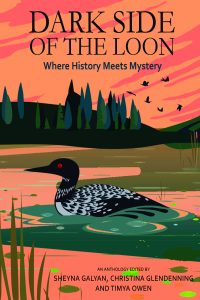 For all you Pink Floyd fans, mystery lovers, and loon adorers, Dark Side of the Loon is a collection of short stories subtitled "Where History Meets Mystery." All the stories are by Sisters in Crime members, and all have a connection to a Minnesota historical event. My story in this collection, "Wind Rider," was inspired by wind tunnel dancing and bison kill sites.
"If the laugh [of the common loon] were human, it would be the laugh of the deeply insane," says writer John McPhee. Is the loon calling to you? You can pick up your copy in paperback or eBook here.
Cooked to Death Volume IV: Cold Cut Files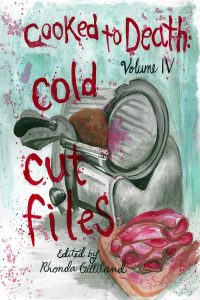 My story, "House Calls," is part of this collection of mystery stories, which all have a food connection. Each includes a recipe. Mine is Vangie's Butterscotch Pie in honor of my mother-in-law who made the pie for her family and who loved reading mysteries.
In "House Calls," three friends decide to save a former lover, who romanced all of them and is on trial for murder. Check out a copy here.
Saint Paul Almanac Volume 11: On the Collected Path
I am a birdwatcher. Not the kind who can't go out without my binoculars, but the kind who feeds hummingbirds and notices when a sharp-shinned hawk is building her nest in the woods behind my house. I also watch the EagleCam maintained by the Minnesota Department of Natural Resources. One winter two events came together: my obsessive EagleCam watching and the wait for my first grandchild. My daughter and her hu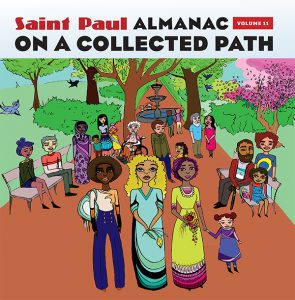 sband were nervous and afraid they really wouldn't know how to do this whole parenting thing. And a short story was born. In "Rutherford Speaks," a young Saint Paul, MN, couple await their first child and learn about parenting from the eagles on the EagleCam. It was selected for inclusion in the Saint Paul Almanac Volume 11: On a Collected Path. I am honored. This is my fourth time to be part of this collection, which is a collaborative community publishing project.