A Story of Lost-and-Found Creativity
"Ms. Roberts' talent is evident . . . her novel is lightly salted with folksy, good-humored insights and peppered with a spunky appreciation of life's whimsy." — New York Times Book Review

"Appealing debut novel." — Publishers Weekly

"Roberts's easy style and comic sense are engaging . . . " — Library Journal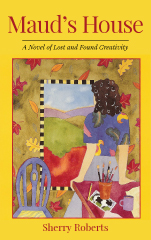 Ever wanted to draw on the walls? Then you must read Maud's House.
As a child prodigy, artist Maud Calhoun put Round Corners, Vermont, on the map with paintings that covered every inch of her house—inside and out. Now Maud faces a blank canvas and searches for her creativity as pressure mounts for her to paint a town mural. Will she ever paint again? The town is depending on her. Because art is disappearing in Round Corners.
Creativity lost. It's as ugly as mud season in Vermont.
This title was originally published by Papier-Mache Press.
"[Sherry Roberts] has the proper light touch needed to bring the feisty citizens of Round Corners, Vermont, to zestful life. Maud's House is a contemporary rarity: a book that is fun to read."— Fred Chappell, author of I Am One of You Forever

"Discovering Sherry Roberts is joy and absolute delight." — Ruth Moose, author of The Wreath Ribbon Quilt

"If there is such a thing as a reflective madcap comedy, Roberts has created one with her novel. Maud's House is a funny and angry comedy — the best kind. And deep in the book's most secret heart, it is about what all great stories are always about: love and sex and death; or to put the same ideas another way: community and need and identity." — Orson Scott Card, author of Ender's Game