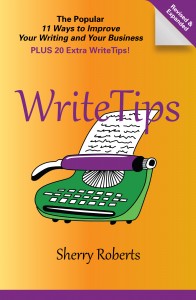 I'd love to have a way to talk to you directly every once in a while. I can tell you about new things happening with my writing, clue you in on great offers available only to fans, give you some little extras (such as inside scoop on some of your favorite characters from my books), and provide some free writing and editing tips that might help you with your own writing—whether it is a business letter or an article for your club newsletter. So please sign up using the form below. Stay in the loop.
My gift to you: Subscribe today and I'll send you links to get a free copy of my ebook WriteTips.
If you would like to have my blog posts delivered directly to your electronic doorstep (by email), just sign up for that service using this link: Subscribe to Sherry's blog by email.