Empower Your Writing and Improve Your Business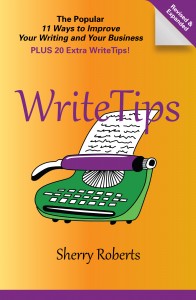 Whether you are writing copy for your company's website, the most important report of your life, or an article for your organization's newsletter, you can be a better writer.
Will being a better writer make you a better human being? We don't know. But it will make you stand out from the crowd. Good writers land the jobs and promotions, save time and money, and create a better world. In a breezy style and with more than thirty years of experience as a professional writer and editor, Sherry Roberts offers a pocketful of writing gems that will help make your writing shine and be more effective and powerful.
WriteTips is a quick read with longlasting impact. It will help you:
Untangle those gut-twisting grammar issues.
Figure out how to start that important business letter.
Make your documents more reader friendly.
Discover how a plain writing style is powerful writing.
Learn how to write e-mails that get results.
Get rid of the business jargon and persuade readers.
Take the pain out of writing.
In WriteTips, Roberts has expanded and revised her popular guide 11 Ways to Improve Your Writing and Your Business as well as added more tips, explanations, examples, and links.
Please email us if you need this eBook in another format.