2016 Will Be a Busy Year

I don't make resolutions. To me, that's just asking for trouble. But I do make plans, and 2016 is full of them. I will be publishing the second book in the Maya Skye series, Warrior's Revenge. I'm working on the final edits right now as I trade glances with the snowman outside my window. If you enjoyed the mystery, characters, yoga spirit, and magic of book one, Down Dog Diary, I hope you will check it out.
I also am chairing the 26th Annual Midwest Book Awards this year. So for the past five months, I have been working with entries, judges, the postmistress (what a dear woman), and the limited space in my house to pull off the best book awards ever. Have I bit off more than I can chew? You bet. Just take a look at my porch. That's more than 1000 books. And in that midst are the winners who will be feted at our big gala in May.
All this book awards madness has taken away from my business and my writing, but I believe it is worth it. The whole purpose of the awards is to honor, promote and improve the quality of publishing in the Midwest. In the end, the publishers, the authors, the judges, and I will know a little more about writing and publishing than when we started. And that is a good thing.
If your books are published in the Midwest, visit the Midwest Independent Publishing Association's website and learn more. Become a member. Entries are closed for this year's awards program, but there is always next year. Start planning now. In past years, two of my books (Down Dog Diary and Book of Mercy) have been finalists in this award. (See the pretty silver stickers.) Some people say awards don't sell books, and I have to agree that the recognition didn't shoot my book to the top of any bestseller lists. But it is recognition that someone other than your mother appreciated your book and found it successful. It worked as a book. It engaged the reader. And that, my friend, is all I could ask for.
__________________________________
Down Dog Diary Named Midwest Book Awards Finalist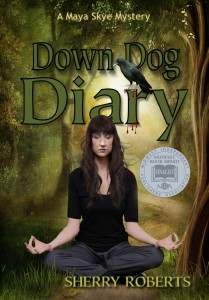 I am thrilled that Down Dog Diary has been named a finalist in the Midwest Book Awards in the mystery category. 
Down Dog Diary is a mystery about a yoga teacher who hunts a killer while trying to protect a book of secrets.
From Down Dog Diary: "More scents lifted from the pages of the diary: roses, wet dog, pine forest, puke, death."
What reviewers are saying: "In Down Dog Diary, author Sherry Roberts reveals herself to be a master of the mystery genre with a dual talent for creating memorable characters and embedding them within a complex but riveting storyline. A terrific read from beginning to end, Down Dog Diary is highly recommended both for community library Mystery/Suspense collections and personal reading lists." — Midwest Book Review
Read an excerpt from Down Dog Diary now.

__________________________________
What Are My Books About?
My books are about justice. As Martin Luther King Jr. said, "The time is always right to do what is right." So, my characters struggle with choices and with finding goodness and doing good when it is not always easy. We all want, most of all, inner peace and love. My wish for you is that you find both—and along the way, enjoy a good book or two.
__________________________________
What's Happening in Sherry's Life
I'm fascinated with big numbers. Show me the biggest of anything, and I am there. Read more >
Being a writer, I am always wondering, where does all the creative stuff come from? Don't you? Read more >
On my bike ride yesterday, I saw a neighbor had installed a free little library. It is an exact replica of his Tudor-style home. Read more about free little libraries >
__________________________________
Give My Books a Spin
Read an excerpt from Down Dog Diary now.
Read an excerpt from Book of Mercy now.
Read an excerpt from Maud's House now.