Down Dog Diary on Sale This Week
Starting Jan. 27, for one week only, Down Dog Diary (Kindle version) is on sale. The price starts on Tuesday, Jan. 27, at $0.99. As the week wears on, the price edges back up to its normal $3.99. Sale ends Feb. 3.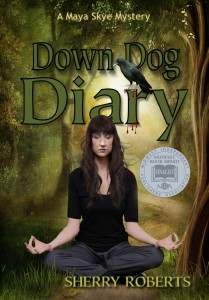 DOWN DOG DIARY
One man has died for it.
Now it's Maya Skye's job to protect it.
Can a yoga teacher hunt a killer and still find inner peace?
In yoga, the Downward Facing Dog Pose turns your world upside down, and that is exactly what the Down Dog Diary does to yoga teacher Maya Skye. First, her mentor, a former Hell's Angel turned shaman, is killed for the book of secrets. Now Maya has it, and trouble is stalking her. When the mystical journal is stolen, Maya learns just how elusive inner peace can be at the point of a gun.
Down Dog Diary is set in small Gabriel's Garden, Minnesota, not far from the Twin Cities. It's a mystery told with humor and drama, but it is also an exploration of the battle for inner peace that rages inside all of us. We may try to follow the path, but life isn't all Minnesota nice.
__________________________________
Down Dog Diary Named Midwest Book Awards Finalist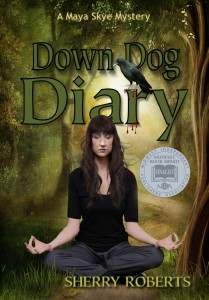 I am thrilled that Down Dog Diary has been named a finalist in the Midwest Book Awards in the mystery category. 
Down Dog Diary is a mystery about a yoga teacher who hunts a killer while trying to protect a book of secrets.
From Down Dog Diary: "More scents lifted from the pages of the diary: roses, wet dog, pine forest, puke, death."
What reviewers are saying: "In Down Dog Diary, author Sherry Roberts reveals herself to be a master of the mystery genre with a dual talent for creating memorable characters and embedding them within a complex but riveting storyline. A terrific read from beginning to end, Down Dog Diary is highly recommended both for community library Mystery/Suspense collections and personal reading lists." — Midwest Book Review
Read an excerpt from Down Dog Diary now.

__________________________________
Give My Books a Spin
Read an excerpt from Down Dog Diary now.
Read an excerpt from Book of Mercy now.
Read an excerpt from Maud's House now.