Down Dog Diary Named Midwest Book Awards Finalist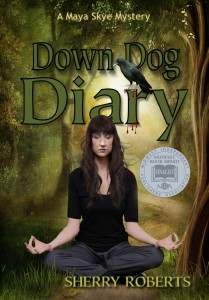 I am thrilled that Down Dog Diary has been named a finalist in the Midwest Book Awards in the mystery category. 
Down Dog Diary is a mystery about a yoga teacher who hunts a killer while trying to protect a book of secrets.
From Down Dog Diary: "More scents lifted from the pages of the diary: roses, wet dog, pine forest, puke, death."
What reviewers are saying: "In Down Dog Diary, author Sherry Roberts reveals herself to be a master of the mystery genre with a dual talent for creating memorable characters and embedding them within a complex but riveting storyline. A terrific read from beginning to end, Down Dog Diary is highly recommended both for community library Mystery/Suspense collections and personal reading lists." — Midwest Book Review
Read an excerpt from Down Dog Diary now.

__________________________________
What's Happening in Sherry's Life
I'm fascinated with big numbers. Show me the biggest of anything, and I am there. Read more >
Being a writer, I am always wondering, where does all the creative stuff come from? Don't you? Read more >
On my bike ride yesterday, I saw a neighbor had installed a free little library. It is an exact replica of his Tudor-style home. Read more about free little libraries >
__________________________________
Give My Books a Spin
Read an excerpt from Down Dog Diary now.
Read an excerpt from Book of Mercy now.
Read an excerpt from Maud's House now.