Mystery lovers, here's an opportunity to get a free electronic copy of Down Dog Diary.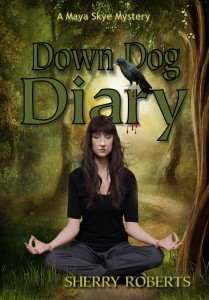 I want to give everyone a chance to enjoy this story, so I'm making Down Dog Diary available free through June 19. Versions are available for your Kindle, Nook, iPad, and other devices. If you don't have an eReader, you can get a PDF version.
In Down Dog Diary, yoga teacher Maya Skye faces the same challenge every day: balance her search for inner peace with her fascination with mayhem. When she inherits a book of secrets, the Down Dog Diary, she sets out to find the killer of the book's former owner, a shaman named James Tumblethorne. When the mystical journal is stolen, Maya learns just how elusive inner peace can be at the point of a gun.

Set in small Gabriel's Garden, Minnesota, this is a mystery told with humor and drama, but it is also an exploration of the battle for inner peace that rages inside all of us. We may try to follow the path, but life isn't all Minnesota nice.
To get your free copy of this award-winning novel, sign up for Sherry's occasional email newsletter below. Links for .mobi, .ePUB, and .pdf versions will be in the welcome email you receive. You may unsubscribe at any time.
So go ahead, give this amusing mystery a chance. It is a Midwest Book Awards finalist! Please let me know how it strikes you, either by contacting me directly or by leaving reviews at Amazon, B&N, etc.