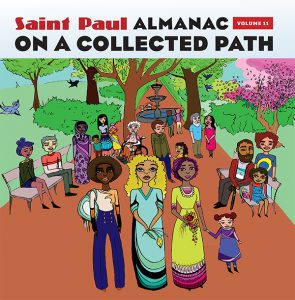 I am a birdwatcher. Not the kind who can't go out without my binoculars, but the kind who feeds hummingbirds and notices when a sharp-shinned hawk is building her nest in the woods behind my house. I also watch the EagleCam maintained by the Minnesota Department of Natural Resources.
One winter two events came together: my obsessive EagleCam watching and the wait for my first grandchild. My daughter and her husband were nervous and afraid they really wouldn't know how to do this whole parenting thing.
And a short story was born. In "Rutherford Speaks," a young Saint Paul, MN, couple await their first child and learn about parenting from the eagles on the EagleCam. It was selected for inclusion in the Saint Paul Almanac Volume 11: On a Collected Path. I am honored. This is my fourth time to be part of this collection, which is a collaborative community publishing project.
One of the things I love about being a writer is when two disparate ideas come together to form a lovely whole.