I love to travel so I am a fan of settings in books. But I don't have much patience with pages of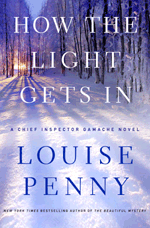 purple prose about snowy cliffs or waxy magnolia-guarded plantations or dark Victorian mansions. I like when settings infiltrate the heart of a book. Here are a few atmospheric reads that I've recently visited or revisited:
Any of Erin Hart's mysteries set in Ireland. She's a Minnesota writer with dark peat dirt under her fingernails. She writes about the mysteries (both human and relic) preserved in the peat bogs of Ireland and the dark secrets of those who live near the bogs. Check out her latest, The Book of Killowen.
The Alaska-cooled mysteries of Dana Stabenow. Her main character, Kate Shugak, who is an Aleut and born in the Park, draws you in like a warm fire on a blizzardly night. She understands this place, this life, and through her, so do you.
Hogwarts will forever be in our blood, thanks to the writing of J.K. Rowling. And the movies don't harm the ambiance either. What's your favorite scene at Hogwarts? Mine is anything set in the dining hall, especially hundreds of candles floating in the air. What better way to set the scene for a magical story?
Three Pines. If you are a fan of mystery writer Louise Penny, that's all I need to say. When reading remarks about this tiny Canadian village with the big body count, I am amazed at the number of readers who say, "I want to live in Three Pines." Penny's irresistible Inspector Armand Gamache is a cross between a Canadian Mountie, Dr. McDreamy, and your ever patient and wise Uncle Somebody.
Author Eudora Welty said this about setting: "Every story would be another story, and unrecognizable if it took up its characters and plot and happened somewhere else . . . Fiction depends for its life on place." Welty also said, "One place understood helps us understand all places better."
One final word on setting from comedian Steven Wright: "Ever notice how irons have a setting for permanent press? I don't get it."
______________________
What settings in books do you get and like to go back to? Please leave a comment below.
As for my books? Maud's House is set in Vermont, where individualism runs rampant. Book of Mercy takes place in North Carolina, where I lived for nearly 20 years. And Down Dog Diary is a mystery set in Minnesota, where Maya Skye chases a killer through state parks and national monuments.