The Book Club Series is an informal chat about what we love about books, movies, and television shows. Join the discussion. I'd love to hear from you.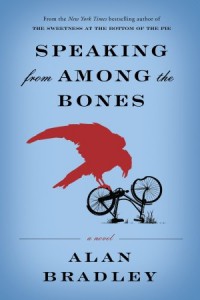 Eleven-year-old Flavia de Luce, amateur detective and ardent chemist, is the precocious star of Alan Bradley's wonderful cozy mystery series set in 1950 in the English countryside. I'm currently making my way through the fifth book in the series, Speaking from Among the Bones. In this one, Flavia, who is inordinately interested in death and passionate about poisons, must solve the mystery of who killed the St. Tancred Church organist, Crispin Collicutt, right when everyone is gearing up to mark the five-hundredth anniversary of St. Tancred's death.
What is the appeal of Flavia or Roald Dahl's Matilda or Kay Thompson's Eloise? They are smart kids. Living in Minnesota, where Garrison Keillor tells us many of our offspring are "above average," we have an appreciation for early genius.
Every parent, I don't care who you are, loves it when their child's brilliance is pointed out to them. Why just the other day the instructor at an educational play class noted that my four-week-old granddaughter had such a winning smile that it boded well for her ability to make friends in the years to come. Her excited mother wrote in an email: "My daughter is so advanced!"
But another reason these fictional prodigies are so enjoyable to read about is that the authors let them run their worlds. How else are they to get into fixes, make adults look like idiots, and save the day with their flashes of innocence? For often their genius is tempered with a soft spot for puppies, the elderly, the downtrodden, or just some slow-minded adult in their path.
This is where grown ups remember that while Flavia is putting one adult on her mental poison list, she is lifting up another who has fallen. From precocious children, we recall that strength comes from tenderness as well as intellect. And if that's not worth a read, I don't know what is.
________________________________
Please share: What precocious children have you come across in literature that you love and why? Leave a comment below.
________________________________
In Book of Mercy, a funny novel about censorship, Ben the child genius says, "It means this is not just about books locked in a broom closet. This is about liberty and rights and all the stuff we hear people talk about when they talk about America."