My first mystery is on the bookshelves. It is called Down Dog Diary. Here's the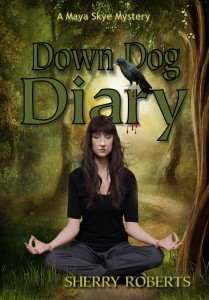 teaser:
Down Dog Diary
One man has died for it.
Now it's Maya Skye's job to protect it.
Can a yoga teacher hunt a killer and still find inner peace?
Do you practice yoga? Don't you love Downward Facing Dog? This is a pose that turns you upside down and reenergizes you while also relaxing you. This is the first of Maya Skye's stories. Each one will have a yoga pose in the title.
About the cover: It was created by a group of talented artists in New Zealand: Kathey Amaral, Cathleen Tarawhiti, and Monique Wanner. Thanks, ladies. And I love the crow and the dripping blood.
Want to read an excerpt of Down Dog Diary?
Want to learn why I named her Maya?