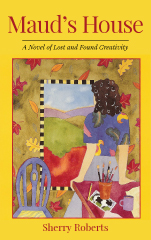 Painter Anna Oneglia created the artwork for the cover of my novel of lost and found creativity, Maud's House. I remember the first time my young daughter saw it she said, "It looks like Maud's outside looking outside." The story is about an artist who at one time was so full of creativity that she drew on the walls of her home. So Anna brought the Vermont autumn inside to Maud's walls. But as the book opens, Maud has lost her muse, and the house that "was once covered in tattoos" has been painted white. Anna painted a lost Maud staring out the window, searching for inspiration.
Anyone can hit the wall, creatively speaking. There is writer's block and artist's block, times when the ideas refuse to flow, when the mind freezes because it is so jacked up on confusion or doubt or fear. There are organizations to help such as A.R.T.S. Anonymous, which helps artists recover their creativity through the Twelve Steps. "In A.R.T.S., bottom line sobriety begins with a humble daily action to pick up one's creativity, 'one day at a time'. Members are asked to do no less than five minutes of art every day. If one picks up even for five minutes, there will be days when five minutes turns into hours," according to A.R.T.S. Anonymous.
Of course, we would never suffer the angst of being blocked if we never dreamed in the first place. It all starts with a dream. To finish that painting. To write that book. To live a life of dignity and peace. The It Gets Better Project was created to show gay and lesbian adolescents who are being bullied in their schools and communities that happiness and positivity is in their reach—if they can just get through their teen years.
What does this have to do with creativity? The point is we don't give up, whether we are crying over an empty page or over the fact that everyone at school seems to hate us. If we can get through one more day, if we can put in just five minutes, we will grow stronger.
Anna Oneglia's strong art was perfect for Maud's House. She brings color and energy to everything she does, much in the way as I dreamed a young Maud would do. The California painter works in oils and mixed media and is also a printmaker producing block prints and lithographs. "The figure is central to my work, a grappling with how humans shape and are shaped by the world," says Anna.
"In looking for art to make a difference," Anna's paintings have been published as posters for many causes, including Business Aid for AIDS, Bike to Work Week, The National Nurse Midwives Association, Celebration of the Muse, and the San Jose Women's Commission.
I thank Anna for her wonderful vision, for showing that dreams are never truly lost; they are just waiting to be found again.
_________________________
Do you have an experience of being blocked? How did you overcome it? Please leave a comment. Also to read how Maud got her art back, I invite you to read Maud's House.