Call me a cock-eyed optimist, but I believe anyone can be a better writer.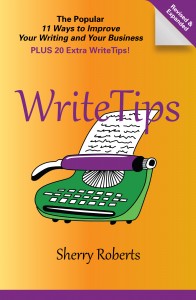 Maybe you are not the next Hemingway, and there's not a classic fish tale in your future. But you can learn to write about the one that got away in a clear and understandable manner, in a way that makes people listen to what you have to say.
That's why I wrote my book WriteTips. I wanted to give you hope and tools—whether you are writing that important business letter, new copy for your website, or an article for your club's newsletter. You can improve your writing, in little ways that make a big difference.
I started out giving out writing skills tips to my clients, from business people to authors, then in business writing classes, until one day I got tired of repeating myself and threw together a little booklet called 11 Ways to Improve Your Writing and Your Business. After selling the booklet for a few years, I placed it on my website for free. That page gets more visitors than the Vatican (well, almost). So I began to think about turning this into a bigger project. Then I started offering editing tips on Twitter using the hashtag #WriteTip.
Eventually, I combined the two: I revised and expanded the original 11 Ways and added 20 WriteTips. Since I was no longer hemmed in by 140 characters, I dug deeper in the WriteTips. And so, WriteTips the book was born.
Extras, Extras, Extras
Since I love giving people more than they ask for (it's fun and a karma thing), I have piled on the extras in this guide to improving your writing skills. In addition to all the tips about writing, grammar, and punctuation, here's what else you get:
How to avoid business jargon that is holding your writing back
How to write effective e-mails (the dos and don'ts of e-mail etiquette)
How to adopt a plain writing style that will blow away your readers
Links and resources (lots of them)
Even some grammar humor
Stop the Rot
Will being a better writer make you a better human being? I don't know. But it will make you stand out from the crowd. Good writers land the jobs and promotions, save time and money, and get support for their projects. I've been a professional writer and editor for thirty years; I've seen it happen.
Still not convinced you should put in some effort to improve your writing skills? What about saving the world? You heard me. One of the best reasons to work at being a better writer is to save civilization. Sounds dramatic? Already parents and teachers are worried about the impact of texting on writing skills. They say their text-happy children with the flying fingers tend to rush their writing, ignore grammar, and are prone to using abbreviations.
So this is "ur," sorry, your chance to be a superhero. Work at being a better writer. The world needs you.
Note: This book does not come with a cape, a Batmobile, or any guarantee that you will become a superwriter. That, Grasshopper, is up to you.
_________________________
Get your copy of WriteTips today. It's only 99 cents for the eBook and $2.99 for the PDF book—even one tip is worth that. It's a small investment to save your writing day.