January 31, 2012: Get Loaded Blog Tour de Force has come to an end. Thank you to all who stopped by and chatted with me on this blog and by email. Please visit my blog again. Also, I'd love to have you friend me on Facebook and follow me on Twitter. A special congratulations to Anita, the winner of the Book of Mercy Gift Basket. The next time you play Bananagrams think of Antigone.
Calling all Sherlocks, Stephanie Plums, Richard Castles, and all you readers/geocachers/scavenger hunters.
It is time for the Get Loaded Blog Tour de Force—the most fun you'll have on a scavenger hunt all year.
We call it get loaded because we're going to load up your ereaders with FREE eBooks. And some of you are going to score loads of prizes as well—special gift baskets by the five participating authors and a new Kindle.
Eager to get on the trail?
Get out your GPS (Great Powers of Scavenging) and put in these coordinates:
Why am I doing this tour? Because I want you to meet: Antigone Brown, a women who can't read and is pregnant with her first child; Irene Crump, president of the Mercy Study Club and determined to rid the town of Mercy of "undesirable" books; and Ryder, a runaway who steals right into Antigone's heart (and yours, too, I bet).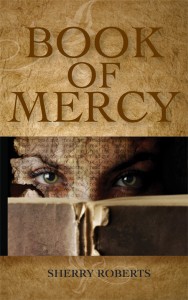 Basically, it all boils down to a literary smackdown between Antigone and Irene. Who will win? Will censorship prevail in Mercy or will Antigone be able to save the books she can't read? There's a secret library involved, a brawl (with pies), hubcap art, boxing deer, and more.
How do you get this must-read? Leave a comment on my blog, during this tour, and I'll send you a FREE eBook of Book of Mercy. Be sure to leave your email address and what type of eBook you'd like (PDF, Kindle, ePUB format).
Rules of the game:
Leave comments on every site of the tour. Use your GPS to hop around the tour. Try to hit every author site. Leave a comment at every site. Each comment earns you a free eBook from that site's owner AND an entry into the site's giveaway AND an entry into (drum roll please) the Big Golden Cache at the end: a FREE KINDLE!
Find your clues. After you comment, hop over to the Indie Book Collective and get clues for hidden info. While you're there, sign up for the IBC newsletter and earn 5 MORE ENTRIES for that Kindle.
Grab your GPS and start hunting down info.
Collect all the info and e-mail your answers at the end of the tour to IBC to earn EXTRA entries for the Kindle drawing.
Cheating is allowed. Keep this on the down low, but I will be giving a few hints on Twitter. Follow me at @sherryroberts7 and get some insider info on this super-scavenger hunt.
Prizes:
Books, books, books. All of the eBook variety. Collect a FREE eBook at every author's site. That means you're hunting for five days, but it's worth it. A comment on this site earns you an eBook copy of Book of Mercy.
Giveaways. Leave a comment at each author's site and get entered into that author's special giveaway. What's in my gift basket? A signed paperback copy of Book of Mercy for your personal library. A dozen of the best cookies on the planet courtesy of Two Smart Cookies (because you won't be able to put down Book of Mercy and will need nourishment) and a Bananagrams game (in honor of my dyslexic heroine, Antigone, who sees letters mixed up all the time and has to make sense of them). I have to limit this giveaway winner to the U.S. #sorry.
Free Kindle. For each comment you leave on my site, you will get one entry into the drawing for the Big Golden Cache at the end: a FREE KINDLE! For every piece of information that you scavenge from the five authors' sites and take back to the IBC site, you get a Kindle giveaway entry. Sign up for the IBC newsletter and get 5 more entries.
So stuff that ballot box, baby. Scavenge like crazy. Don't miss a day or a site.
Give a Big Cyber Hug to My Sponsors
Go visit my wonderful sponsors' sites and leave a comment. These folks do a tremendous service for the reading community. Plus they have interesting stuff to say about books. Bookmark these sites; subscribe to them. Please.
Purple Jelly Bean Chair Reviews
A Word about My Tour Mates: Amazing Paranormal Reads
Go back to Day Three: Chelsea Fine's YA paranormal romance, Anew, presents a conundrum I can honestly say I have never encountered in my long reading life. This is a fresh take on the love triangle, and you'll find yourself wishing there was a way for everyone—brothers Tristan and Gabriel and lovely Scarlet—to live happily ever after. But first they have to break not one, but three curses. A promising start to the Archers of Avalon series. Bring us more, Chelsea. What are you doing on this tour? You need to be writing.
Get ready for Day Five: Liz Schulte is a talented writer who has woven an intricate plot with an amazingly seductive bad boy (don't the vulnerable ones get us every time). In Secrets, she alternates first-person chapters between photographer Olivia and mysterious Holden. The world has plans for Olivia. Can she keep from falling into the abyss? Side note: The dream sequences in this book are amazing.
That's it. So get going. Comment. Scavenge. Cheat all you want. Get those prizes. Get loaded.
Remember: Leave a comment on my blog, during this tour, and I'll send you a FREE copy of Book of Mercy. Be sure to leave your email address and what type of eBook you'd like (PDF, Kindle, ePUB format). Here's the question I'd like you to answer: What's your favorite banned book and why?