This book tour I am going in my pajamas.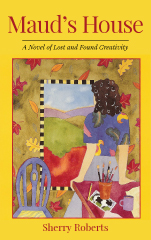 I am participating in the Get Loaded Blog Tour de Force sponsored by the Indie Book Collective this week, and I hope to get more mileage while putting on fewer miles. This is the new paradigm in publishing.
You see, in my last book tour (back in the '90s when few people were talking about virtual anything much less a virtual book tour), I traveled for ten days from Los Angeles to Vermont to promote my book, Maud's House. I talked to packed houses and empty ones; one horrendous thunderstorm washed away all my potential readers in Chicago.
Maud's House is the story of a Vermont artist who loses and regains her creativity. As a child prodigy, Maud drew on the walls of her house, every square inch. As an adult, she is has lost her muse, drinks too much Rolling Rock, and seems to only be able to draw postcards featuring cows.
The neat thing about any book tour, virtual or physical, is meeting readers and learning about their lives. On the Maud's House tour, I met readers who cracked me up and who touched me with their stories.
One woman admitted that she had begun writing again after reading my book: "I was raised in a strict home where we weren't allowed to dance or paint or write. I'm in my fifties and starting my first journal."
Another woman said she had a brother who, like Maud, drew on the walls. He was always getting in trouble with their mother. In the end, he became a successful artist. One day, the mother discovered one of her son's early drawings secreted way on a wall inside a closet. She seriously considered cutting that part of the wall out and having it framed.
I hope to meet more great readers on this tour. Come back to this blog on Thursday, January 26, my featured day of the tour, and let's talk. I am promoting my new novel, Book of Mercy, this time. It's a funny novel about a serious issue (censorship), so we'll have lots to discuss.
See you Thursday. I'll be in my PJs, so don't dress up on my account.
________________________________
What's on your mind? I'm listening. Maud's House is about pursuing your creativity no matter where it takes you: to the painting studio, the kitchen, the garden, the antique car in your garage. What do you take to the level of an art? Leave a comment below.