Book One: A Minnesota Mystery with a Yoga Spirit
Midwest Book Awards Finalist
Library Journal SELF-e Selection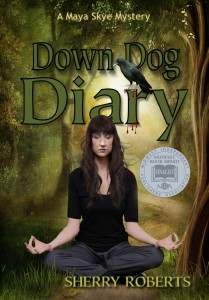 Yoga teacher Maya Skye faces the same challenge every day: balance her search for inner peace with her fascination with mayhem. When the Down Dog Diary, a book of startling scents and mysterious secrets, is stolen, Maya learns just how elusive inner peace can be at the point of a gun. Can she catch a killer and still find inner peace?
Set in small Gabriel's Garden, Minnesota, this is a mystery told with humor and drama, but it is also an exploration of the battle for inner peace that rages inside all of us. We may try to follow the path, but life isn't all Minnesota nice.
"Author Sherry Roberts has created an inspirational story with many layers to keep you engaged. Down Dog Diary has an engaging plot that is, on one hand, a magical and mystical story with surprises around every corner. At the same time, her characters are real and you find yourself caring about them and, in some cases, hating them." — San Francisco Book Review

"In Down Dog Diary, author Sherry Roberts reveals herself to be a master of the mystery genre with a dual talent for creating memorable characters and embedding them within a complex but riveting storyline. A terrific read from beginning to end, Down Dog Diary is highly recommended both for community library Mystery/Suspense collections and personal reading lists." — Midwest Book Review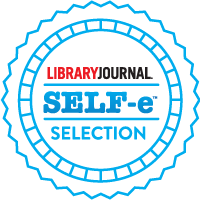 Read this book IF:
You love mysteries. You love yoga. You love Minnesota.
You like your mysteries with a touch of humor, not too much gore, and heavily spiced with unforgettable characters.
You have a soft spot for Pink Panther movies, Buffy the Vampire Slayer, Native American lore, and Zen attitude.
"In Down Dog Diary, Sherry Roberts turns her finely honed skills to the thriller. Don't miss it!" — Faith Sullivan, author of The Cape Ann and Good Night Mr. Wodehouse
Get your copy today. Available in paperback and ebook.

See Book Two: Warrior's Revenge
More Reviews
Sherry Roberts, author of Book of Mercy, just crafted her first mystery and it is a beautiful work, dipped in zen and Native American lore, with echoes of Tony Hillerman and Abigail Padgett. Down Dog Diary is a thriller written with a humorous and fluid style . . . Gentle and wise, Down Dog Diary is also down to earth and realistic. It carries the beauty and ugliness of life within its pages, reminding the readers that life is colored by our actions and thoughts and the paths we follow are from our own choices. Down Dog Diary is a kick-ass mystery novel and I am looking forward to Maya Skye's next adventure. I hope the crow will be there, too. — Masquerade Crew

"This was not a 'typical' cozy mystery. As I started reading, I was scrunching up my eyebrows in wonderment. However, it is definitely a cozy mystery and done very well. I liked the new fresh ideas and the way the story was told, not following a typical plot of a cozy mystery." — A Date with a Book


"This is one of the best mysteries I've ever read. Written with a deftly constructed sly beauty, I was crying after the first few pages. As a student of sacred mysteries and lover of wild gnosis, this story hit my sweet spot: well-constructed characters, great dialog, solid plot, and a writing talent that demonstrates an observant author with a wry sense of humor and depth of wisdom." — Amazon reviewer

"Down Dog Diary is a fun, fast-paced mystery with a contemporary blend of yogic philosophy, energy healing, and modern shamanism. The universal concepts embodied by Maya exemplify the imperfectly perfect journey of those on a heart-centered spiritual path." — Deb Irestone, founder of Shamans Hearth Spiritual Community of Venus Rising