Book of Mercy
2011 Midwest Book Awards Finalist

A funny novel about a serious issue: censorship.
"If you are a book lover, you will love this book!" — Faith Sullivan, author of Gardenias, The Cape Ann, and The Empress of One.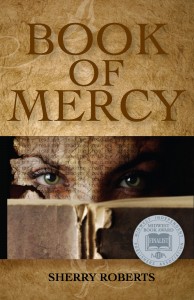 Antigone Brown has trouble reading road signs, keeps a stone in her pocket to help her remember right from left, and despairs of ever being a good mother to her unborn child. As she is quick to tell you, she is not hero material. She runs a deer farm and vegetarian cafe in Mercy, North Carolina, where textiles—not tourism—is king and where Irene Crump and the Mercy Study Club run the show.
But then Antigone takes in a homeless boy against her husband's wishes and the Study Club forces her best friend, the school librarian, to remove "undesirable" books from the school's collection. And soon Antigone finds herself challenging the controlling Irene and fighting for the very things that have made her life a misery—books. The dyslexic Antigone starts her own library and sets in motion a series of events destined to change Mercy forever.
"It's a serious topic—book banning—but handled in a responsible, fun way with quirky characters, and so-real dialogue. . . . Librarians will cheer for the plucky heroine, Antigone Brown who stands up to the town bullies with the help of her oddly talented friends. Well-researched, well-written, a delightful read!" — A librarian
"Everyone who cares about books should read Book of Mercy. And especially, read it if you like your books to be engaging, fun, and of literary merit. . . . From a tiny town in the south, to the dark alley where trouble lurks, to the mean streets of New York City, the characters and personalities in Book of Mercy run the gamut of human experience. I was sorry to see the book end. I loved every minute of it!" — Lois West Duffy, author of Zillah's Gift
Maud's House
Good-bye creativity. Hello trouble in a small Vermont town.
"Ms. Roberts' talent is evident . . . her novel is lightly salted with folksy, good-humored insights and peppered with a spunky appreciation of life's whimsy." — New York Times Book Review

"Appealing debut novel." — Publishers Weekly

"Roberts's easy style and comic sense are engaging . . . " — Library Journal
As a brilliant child artist, Maud Calhoun put Round Corners, Vermont, on the map with paintings that covered every inch of her house. Now, pressured to paint a mural for her small Vermont home town, she searches for the inspiration that has eluded her for fifteen years. With humor and warmth, Maud struggles to reclaim herself and her creative muse as her tightly knit community unravels.
Welcome to Maud's House, where the good struggle is played out by an endearing group of locals and a woman who remembers a time when pictures "trickled from my fingers like blood." There's always beer in the refrigerator and country music on the radio, and everyone is sure to butt into your business.
And if you draw on the walls — maybe just your initials tucked into the corner of the bathroom above the heating vent — no one will care. Everyone in Round Corners knows how it is: how you can have these uncontrollable urges to leave your mark. The problem comes when the muse flies the coop and you're stuck, and sooner or later, everyone in Round Corners becomes stuck.
Creativity lost. It's as ugly as mud season in Vermont.
"[Sherry Roberts] has the proper light touch needed to bring the feisty citizens of Round Corners, Vermont, to zestful life. Maud's House is a contemporary rarity: a book that is fun to read."— Fred Chappell, author of I Am One of You Forever

"Discovering Sherry Roberts is joy and absolute delight." — Ruth Moose, author of The Wreath Ribbon Quilt

"If there is such a thing as a reflective madcap comedy, Roberts has created one with her novel. Maud's House is a funny and angry comedy — the best kind. And deep in the book's most secret heart, it is about what all great stories are always about: love and sex and death; or to put the same ideas another way: community and need and identity." — Orson Scott Card, author of Ender's Game
Other Books by Sherry
Greensboro: The New American Metropolis
Greensboro: A Portrait of Progress
These are two coffee-table books about the business and economy of my former North Carolina hometown.